17TH APRIL 2019 – Toulouse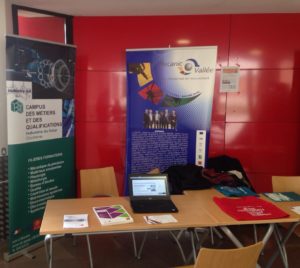 « Campus des Métiers et des Qualifications » (CMQ) is Mecanic Vallée cluster's partner, which brings together secondary education institutions, initial and continuing education centers on Mecanic Vallée territory.
Regarding Cardemy project, CMQ participated, through its network of teachers and students, in the development and testing phases of the training modules.
On April 17th 2019, CMQ presented Cardemy training platform at the eighth edition of the Academic Day of Innovation organized by the French Ministry of National Education in Toulouse.
Nearly 450 visitors : teachers, school heads attended the presentation of the project and spoke with the CMQ on the Cardemy booth during the day.
This annual event, which aims to promote and disseminate innovative pedagogical practices, was a fabulous showcase for Cardemy and a vector to present our tools to French teachers in vocational training.